Immersing, Yielding, and Relating with Others
In seeking to grow as disciples of Jesus, this time in God's Word includes three components we consider necessary for spiritual growth:

God's Word
God's Spirit
God's People

Immersing in God's Word
This plan puts you in God's Word daily, encouraging you not only to read the Word, but meditate on it, responding in your spirit, thoughts, and emotions. Pay attention to words and phrases that catch your attention and ask God about them, knowing that he desires to shape and mold you as His disciple. Consider journaling, even if only a line or two. Feel free read the bible's context to scripture passages (before and after).


Yielding to the Holy Spirit
Jesus promised the Holy Spirit would remind his disciples of what he taught; That Spirit helps us too. You'll find opening and closing prayers here remind you to yield to the Holy Spirit in both these devotions and in life itself.

Opening Prayer:
Spirit of God, You are my primary teacher of God's Word; I yield my heart and mind, my soul and spirit, my will and imagination to You as I immerse myself in the Word during these dedicated moments. Teach me in Jesus' name, Amen.

Closing Prayer
Spirit of God, I pray that you use this time of devotion to shape and influence my thoughts and emotions as well as my actions and attitudes throughout the day. May all who encounter me also encounter You in me. Again, I yield my heart and mind, my soul and spirit, my will and imagination to You as I immerse myself in the rest of this day to God's Glory; In Jesus' name, Amen.

Relating with Others
At least once a week, make a point to connect with a small group of people (as few as 2 or as many as 12) also walking with the Lord. You can even talk through this material, sharing what you are learning or wrestling with while in God's Word. Encourage, admonish, strengthen, and love each other in these get-togethers. This is the third way God matures people. So whenever you can make it happen, do so; don't ignore it.

Your Personal Discipleship Time
One of the goals with being immersed in Jesus is that each person (like you) defines her/himself as a disciple of Jesus, believing that the mandate of discipleship is coming directly from Jesus Himself. This means you are responding to His call on your life, following Him, letting Him change you, and working with Him in His mission to help make disciples of other people along the way.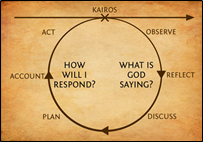 God is always trying to speak to us, using moments in our lives to get our attention. Two basic questions you may want to get familiar with asking daily relate to what Mike Breen of 3DM ministries calls a learning circle:
What is God saying to me?
What am I going to do about it?
Mike Breen, Lifeshapes, 3DM Ministries
Don't expect everyone to be a mature disciple immediately, but do expect to be on a path to maturity – don't assume it will simply happen. You will be learning to listen for, hear, and respond to Jesus' voice. As one grows in this process, it is natural to have questions arise – write them down. Later that day or week, ask a trusted Christian friend about it or someone else who is discipling you personally; do not simply make up your own answers.
In addition to the basic questions above, you may find other questions helpful as well throughout the week: What did you learn? Is this new or a reminder of past learning? What did you wrestle with this week because of God's Word? Is this new or has it persisted for awhile? Did God convict or comfort you in some way? How? What emotions are you feeling? What questions do you have about the readings?
Immersion Daily Devotions
One of the ways we stay immersed in Jesus is through God's Word. By engaging with it regularly such as through daily devotion time, we enable God (Jesus) to teach us and even meet us through the experience; a person may read the bible with different intentions, among them:
Intellectual (to learn about God and His ways)
Emotional (for strength, comfort, support)
Guidance-driven (seeking direction, advice)
Experiential: Connect with God through His Word (like this site)
The Primary Purpose for Immersion

As you engage God's Word, remember that it is "living and active, sharper than any double-edged sword, penetrating even to dividing soul and spirit, joints and marrow; it judges the thoughts and attitudes of the heart". (Hebrews 4:12).
Our chief goal with God's Word is to bring about an encounter with the Living God, also known as the Father of Abraham, Isaac, and Jacob, the Father of our Lord Jesus Christ – and our Father in Heaven –Abba. We know God uses such encounters to create, sustain, or grow faith in His people and complete work He aims it to do in and through us.
And know that there will be times when God challenges you through His Word. Gladly embrace this truth, keeping in mind this other verse from Hebrews: "No discipline seems pleasant at the time, but painful. Later on, however, it produces a harvest of righteousness and peace for those who have been trained by it". (Hebrews 12:11)
Let God train you through his Word, Spirit and Body.